Dropshipping is an exciting business model that allows entrepreneurs to sell products directly to customers without holding inventory. While it presents a unique opportunity, success in dropshipping requires the right set of tools. These tools can streamline operations, enhance marketing efforts, and ultimately, boost sales. Here's a list of the top 9 tools that can propel your dropshipping business to new heights.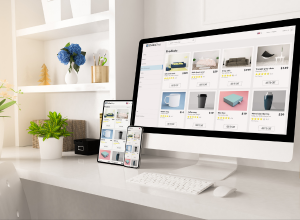 What are the Top Tools that Can Help Your Dropshipping Business?
Canva

What it Does: Canva is a graphic design platform that offers a wide range of tools to create stunning visual content.
Why it's Essential: In dropshipping, presenting your products in the best possible light is crucial. With Canva, even those with no graphic design experience can craft compelling product images, social media graphics, and other marketing materials.

Google Drive

What it Does: Google Drive provides cloud-based storage and file sharing.
Why it's Essential: Dropshipping involves juggling multiple files – from invoices to customer lists to product catalogs. Google Drive helps you store, organize, and access these files from anywhere. Collaboration with team members becomes easier as everyone can access the same updated documents in real-time.

Unbounce

What it Does: Unbounce allows users to create, publish, and test landing pages without any coding.
Why it's Essential: Creating targeted landing pages can improve conversion rates. With Unbounce, dropshippers can quickly develop product-specific landing pages, test their performance, and optimize for maximum sales.

Mailchimp

What it Does: Mailchimp is an all-in-one marketing platform, but it's most known for its email marketing services.
Why it's Essential: Building a loyal customer base is crucial for sustained growth in dropshipping. Mailchimp enables you to collect emails, segment your audience, and send out targeted campaigns or newsletters, ensuring repeat business and customer engagement.

Google Analytics

What it Does: Google Analytics is a free tool that provides insights into website traffic and user behavior.
Why it's Essential: Understanding your audience is key. With Google Analytics, dropshippers can monitor which products are attracting attention, how customers navigate their site, and where potential customers drop off. These insights guide strategy adjustments for better performance.

Shopify/DropHippo

What it Does: Shopify is a leading e-commerce platform, and DropHippo is its tool specifically designed for dropshipping.
Why it's Essential: Shopify simplifies the creation of an online store, while DropHippo makes product import from suppliers a breeze. Together, they offer a seamless experience, managing everything from product listings to payments.

AliExpress Dropshipping Center

What it Does: This tool provides data on trending products and trusted suppliers on AliExpress.
Why it's Essential: For dropshippers sourcing from AliExpress, this center is invaluable. It aids in product research, helping businesses identify profitable niches and reliable suppliers.

Trello

What it Does: Trello is a visual collaboration tool that creates boards, lists, and cards to organize tasks.
Why it's Essential: Dropshipping can involve a lot of moving parts – from order processing to marketing campaigns. Trello helps you keep track of tasks, ensuring nothing slips through the cracks.

Zapier
What it Does: Zapier automates workflows by connecting apps and transferring data between them.
Why it's Essential: Efficiency is key in business. Zapier can automate tasks like adding new customers to your Mailchimp list or updating stock levels in your store, saving you time and reducing errors.
In Conclusion
Succeeding in the competitive world of dropshipping involves more than just a good product and a website. It's about leveraging the right tools to streamline operations, connect with customers, and make informed decisions. The aforementioned tools represent some of the best in the business and can be instrumental in setting your dropshipping venture on a path to success.