Many businesses have started creating web Shopify stores to sell products and services. With growing numbers of companies opening their Shopify stores, it's hard to create a unique and different theme from the crowd.
Opening a business today is relatively easy, but expanding your clientele is difficult, especially if you're a home-based business. Finding a place to set up shop can be tricky, but starting online might help out a lot. Shopify is an excellent place to sell your products; it's one of the best e-commerce platforms in the world, trusted by more than 1.7 million stores worldwide.
If starting a business and you're looking for a place to build your store on Shopify, EcomSolid is a good place for you to start. Helping you make your custom theme and pages quick and easy.
What is EcomSolid?
EcomSolid is an affordable and unrivaled Theme and Page Builder on Shopify. It helps sellers set up shop, create their unique pages and conversations easily and quickly.
It is an All-in-One store design solution built to help create and boost your store on Shopify. Numerous customizable styles, themes, templates, etc., creating your very own business page is made easy and affordable with EcomSolid. With its multiple customizable elements and all kinds of sale-boosting add-ons, this Theme and Page Builder has it all and more.
EcomSolid boasts a lot of positive reviews and over 5000 Shopify Sellers Empowered with its design system. Excellent reviews on Trustpilot and the trust of multiple Shopify Sellers, You can see just how awesome EcomSolid is.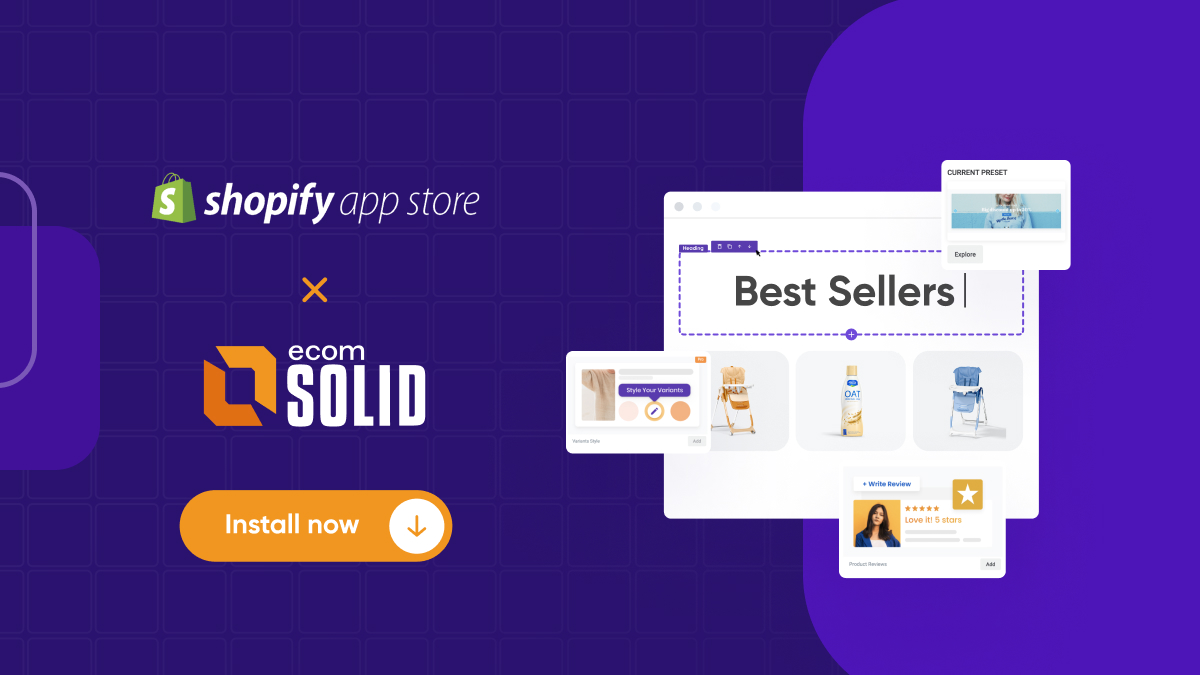 Why EcomSolid?
If a seasoned businessman/businesswoman or just starting, EcomSolid is a great place to start making your pages. With EcomSolid, you can choose from its different plans, themes, and designs to create your very own business website. Their beginner-friendly User Interface (UI) is easy to learn and understand.
Creating your custom pages is easy with EcomSolid. Creating that unique and special page for your store is as simple as writing your name with its multiple themes and features.
Building a page can be difficult if you don't know anything about coding and graphic design, but with EcomSolid, you won't need any of them. Perfect for beginners, EcomSolid can help you design the perfect page and themes for the business you own.
Theme and Pages Full Package
Creating Storefronts is a hassle when designing is in mind, with this package gives you full access to its library of themes and pages. It helps you with choosing the perfect theme and pages to create your Storefront.
Being unique is always essential, and you don't want to fit in the crowd. EcomSolid's wide variety of themes and pages is impressive and could help your page be unique from the rest of the stores on Shopify.
Showcase your brand with a fantastic store it deserves with these themes and page templates on EcomSolid. Simply pick your page, change your theme, configure your products, and you're ready to go.
Intuitive Visual Editor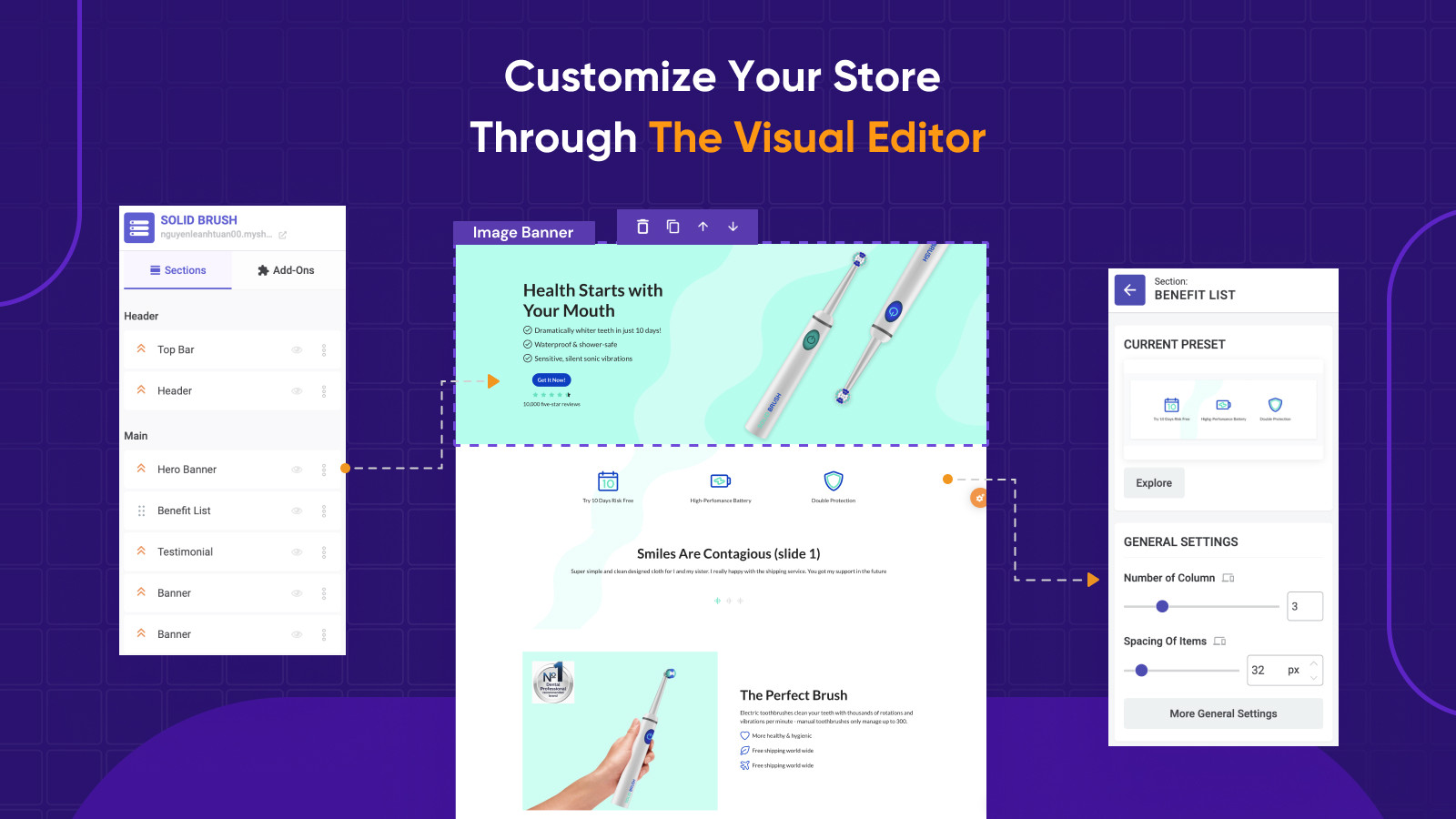 Finding that ideal look that your brand deserves is easy to make with EcomSolids Intuitive Visual Editor. No need to hire a designer. It's easy to use!
Creating the perfect look that you want for your store would be easy. Making your brands look and feel with over 100 different customizable layouts and content blocks.
EcomSolid's beginner-friendly system, it's built for everyone to use and learn. Page design can't be made any more straightforward.
With EcomSolid's system, even a beginner with no experience and skill can master it. Any design tweaks that you make get applied to the design of your store.
A Rich Library of Templates and Layouts
Creating that signature look for your page would be easy with a wide variety of templates and layouts. EcomSolids Library of thousands of different and unique templates, sections, and layouts, you can mix and match for your liking.
With EcomSolid, you won't need other templates and layout websites. Everything you need is here and at a very affordable price. Don't worry if the theme you use is different from the template you like; everything is compatible with EcomSolid.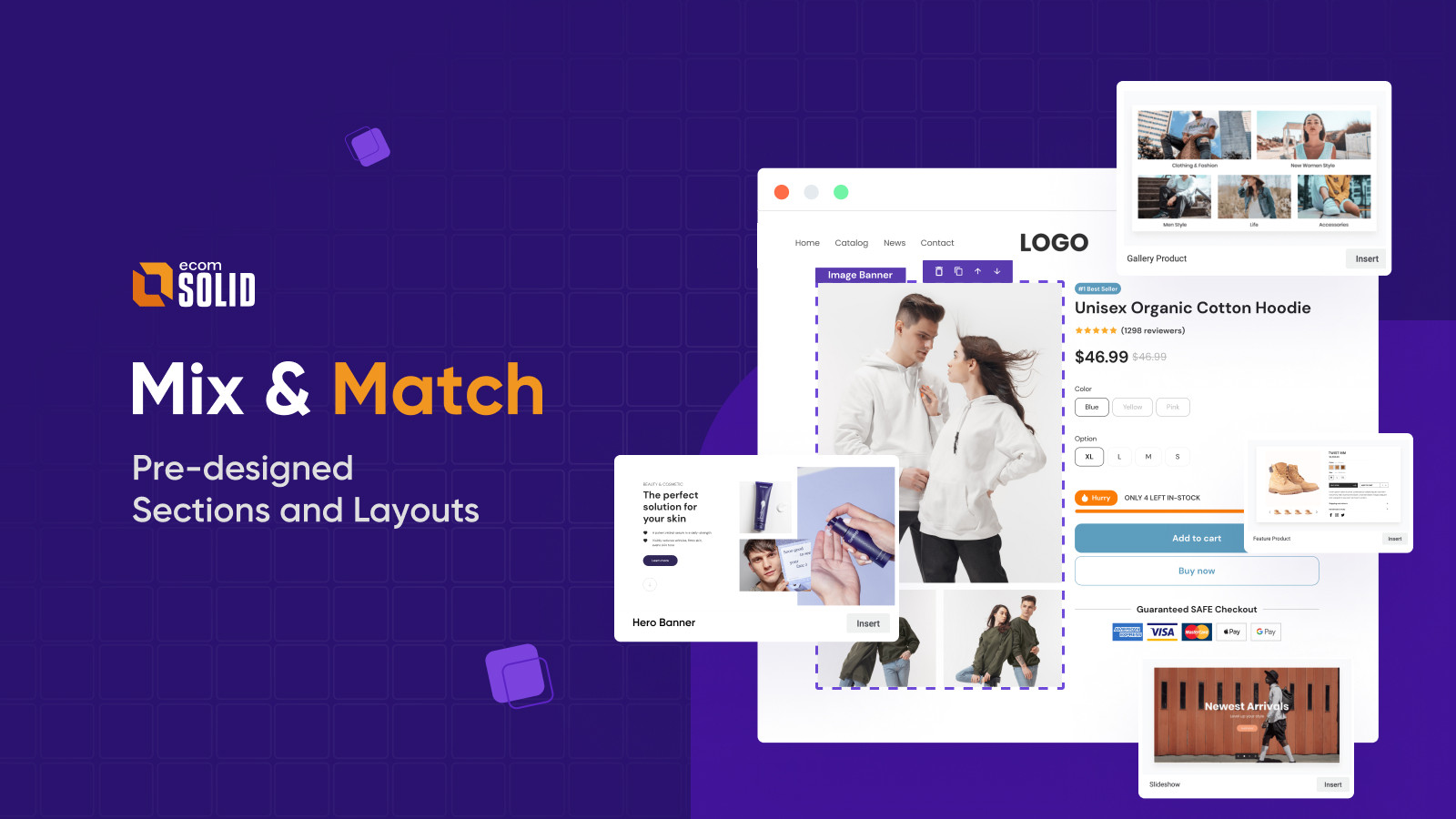 Various Built-in and Third-party Add-ons
Conversations with customers are essential when in the business industry. Having add-ons could help you boost not only the conversations with customers but also your sales. Boosting can help you with selling products and having conversations with customers. It could be a good choice to find an excellent add-on to help you out.
But with EcomSolid has got you covered. Built-in add-ons won't be an issue, and if you'd like, it's partnered with multiple third-party add-ons, giving you the boost that your store might need.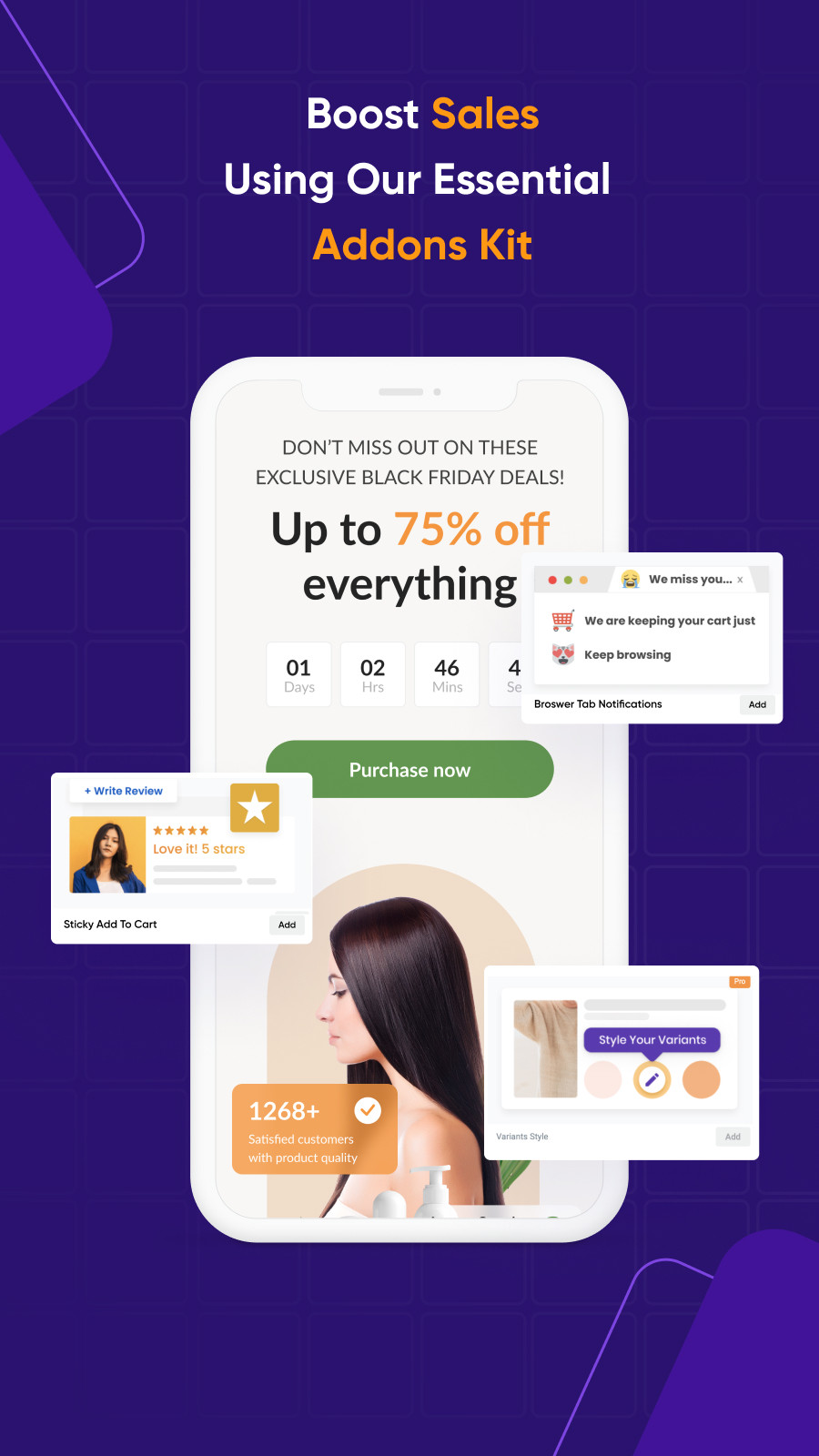 Optimized SEO and Mobile Integration
In some cases, designing a page for Laptops and Desktops is different from creating one for mobile phones. Some even make a separate page for their mobile customers. Designing different pages for the diverse needs of your customers is time-consuming and might cost you more money, but with EcomSolid, it's a different story.
With its versatile themes and templates, creating a page to cater to other people is easy. The page you made on your desktop is compatible with mobile devices, no need to develop other dedicated pages for your consumers.
Not only does it help you boost your sales, but it also optimizes your SEO. Helping you gain fast speeds loading pages, so the customers don't have to wait.
Absolutely Codeless (unless you want to!)
Coding can be a hassle, especially if you're just trying to make your page. If you don't know how to code, it'll take longer if you want everything to be perfect just the way you like it.
Using EcomSolid, you don't need to learn a single thing about coding. The system they created already comes with the codes you need. If you know your way around codes and want a few tweaks, the system will allow you to make those changes by yourself or with the help of the system.
What's the price?
EcomSolid is affordable, even starting businesses can gain its services for cheap. It also offers a 20-day Free Trial and a Free Forever Plan.
Launch (Free)
With this plan, you can use the basic features that EcomSolid to get your business up and ready.
Growth ($19/Month)
It's the cheapest paid plan EcomSolid offers. You can access all the Must-have features to allow you to create your design better and scale them faster.
Advanced ($39/Month)
Gaining exclusive features and support and takes your sales to the next level. Giving you more access to better features not available from the plans.
Enterprise (Customized)
This plan gives you a customized plan based on the needs of your business.
These prices are low if you have a business, and it's customizable to your liking.
For more information, check out their pricing plans.
The Big Launch
EcomSolid is now on Shopify App Store, giving you a better method to access their unrivaled services. It also got recognized on Product Hunt last September 28. Gaining these achievements, they're offering amazing promotions for their customers.
For all New Users, You get 50% off from all plans for the first 200 upgrades! Grab your chance now before it sells out!
For Development Stores, You gain a Free Growth plan to experience the app.
EcomSolid is a great app to start your Shopify Seller Page. It gives you access to their amazing services and helps. Don't miss a beat and try them out for yourself; you might love the service it provides.
Starting a business is already hard, and if you need any technical or creative support, EcomSolid's support team will help you with any of your concerns.
EcomSolid is a fantastic app you can use for your business. It is versatile, hosts various features, and provides you with the best experience you want. Try it now for free!